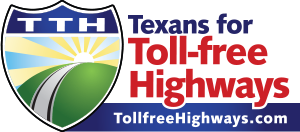 For current issues around the tolling of San Antonio, please visit
TollFreeHighways.com
. This SA Toll Party site is being kept available for archive purposes. -
See more at: http://tollfreehighways.com/
281: Special Edition - Updated!
Check back for film availability... Thank you
Storm Pictures
for your incredible work documenting the effort over the years!
VOTERS HAVE NO SAY!
The toll plan gives an unelected bureaucracy and our unelected Alamo Regional Mobility Authority (tolling authority) the power to tax us without limit and with no accountability to the voters. That's taxation without representation which has birthed the 21st century version of the Boston Tea Party, the San Antonio Toll Party.
What's it gonna cost me?
We'll be suffocated with toll roads in the State's effort to create a new, very lucrative revenue stream. How lucrative? How about $2,000-4,000 a year for the average family! TxDOT's own survey about toll rates for drivers on toll lanes on 1604 (from I-10 to Kittyhawk) shows that for a route of about 20 miles on toll lanes it would amount to an extra $5.90 ONE WAY to get to work! That's 29 cents a mile, nearly $240/month, and over $3, 000 a year! We just passed a sales tax dedicated for State highway projects in November 2004, and San Antonio is now the only Texas city to have a sales tax dedicated for highways. Now tolls, too?
>> More here
SECRET Toll Agreements with Foreign Companies
Even worse...
The legislature voted to charge YOU 'market-based' tolls (translation: highest possible tolls - $0.40 to a $1.00 per mile!!)
>> More here
We're being taxed without accountability to the voters. There is
no cap on how much
we'll be charged. There is
no sunset on when they'll cease
. There are
environmental concerns
with the aquifer. We're facing a gasoline price crisis, and we're being
double taxed for roads
we've already paid for.
Time for a taxpayer revolt!
We don't need a new government entitlement.
How could this happen?
We allowed politicians and special interests to get far too cozy while we were busy working hard and raising our families. This isn't a partisan issue, but a corrupt politician issue. We have Republicans and Democrats alike who are IGNORING the WILL of the PEOPLE they're called to serve and we have Republicans and Democrats alike willing to right this wrong.
Texans NEED a referendum process
It's clear that Texans need some form of statewide referendum or initiative process in order to redress the government for our grievances such as this. The Governor, TxDOT, and our legislators are NOT listening to the public outcry on tolling our freeways, so we need a referendum to be able to roll back BAD public policy like this to prevent this sort of runaway government from happening again!